Highlights from our projects
Frictionless Data
With Frictionless Data, we focus specifically on reducing friction around discoverability, structure, standardisation and tooling. More generally, the technicalities around the preparation, validation and sharing of data - in ways that both enhance existing workflows and enable new ones - towards the express goal of minimising the gap between data and insight. We do this by creating specifications and software that are primarily informed by reuse (of existing formats and standards), conceptual minimalism, and platform-agnostic interoperability.

In March we published the Frictionless Data Field Guide providing step-by-step instructions for improving data publishing workflows. The field guide introduces new ways of working informed by the Frictionless Data suite of software that data publishers can use independently, or adapt into existing personal and organisational workflows.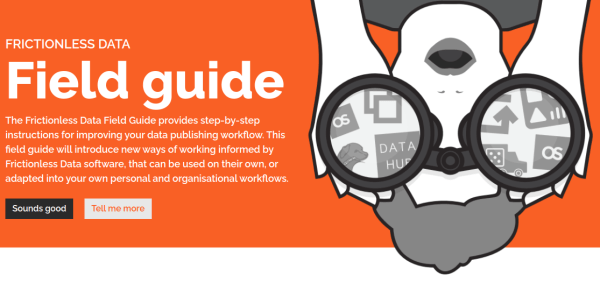 In July, we announced funding from the Sloan Foundation which we have used to iterate on our work to date and to facilitate deeper integration of the Frictionless Data approach in a range of tools and workflows that enable in reproducible research. We're also focussing on researchers themselves to support them in becoming trainers and evangelists of the tools in their field(s).
"Ensuring data availability alone is insufficient for the true potential of open data to be realised. The push from journals and funders at the moment is to encourage sharing, which is the first step towards reuse. The next step is to consider how we ensure actually reusable data. Any efforts to make it easier for researchers to prepare high quality reusable datasets, and to do so with minimal effort, are welcome. Further, tools that reduce the burden of reviewing datasets are of interest to data publishers." - Naomi Penfold eLife
OpenSpending and the Fiscal Data Package
Making government finances more transparent remained one of our key programmes of work in 2018. In close partnership with the Global Initiative of Fiscal Transparency (GIFT) we further developed our light-weight specification that models Fiscal data, the Fiscal Data Package Specification. In May we announced the version 1 of this specification, after an extensive period of testing the specification with a variety of diverse fiscal data sources. The specification is built on the philosophy that it should be flexible and adaptable to the format in which data is being published by governments around the world.
Working closely with GIFT we work with national governments ranging from Croatia to Mexico and from South Africa to Argentina, to help them publish their budgets in the Fiscal Data Package format. The resulting data is all available on our central portal OpenSpending, which provides easy ways to find data with the OS Explorer; multiple ways of visualising the data out-of-the-box via the OS Viewer; as well as a sophisticated API for more technical users of the data.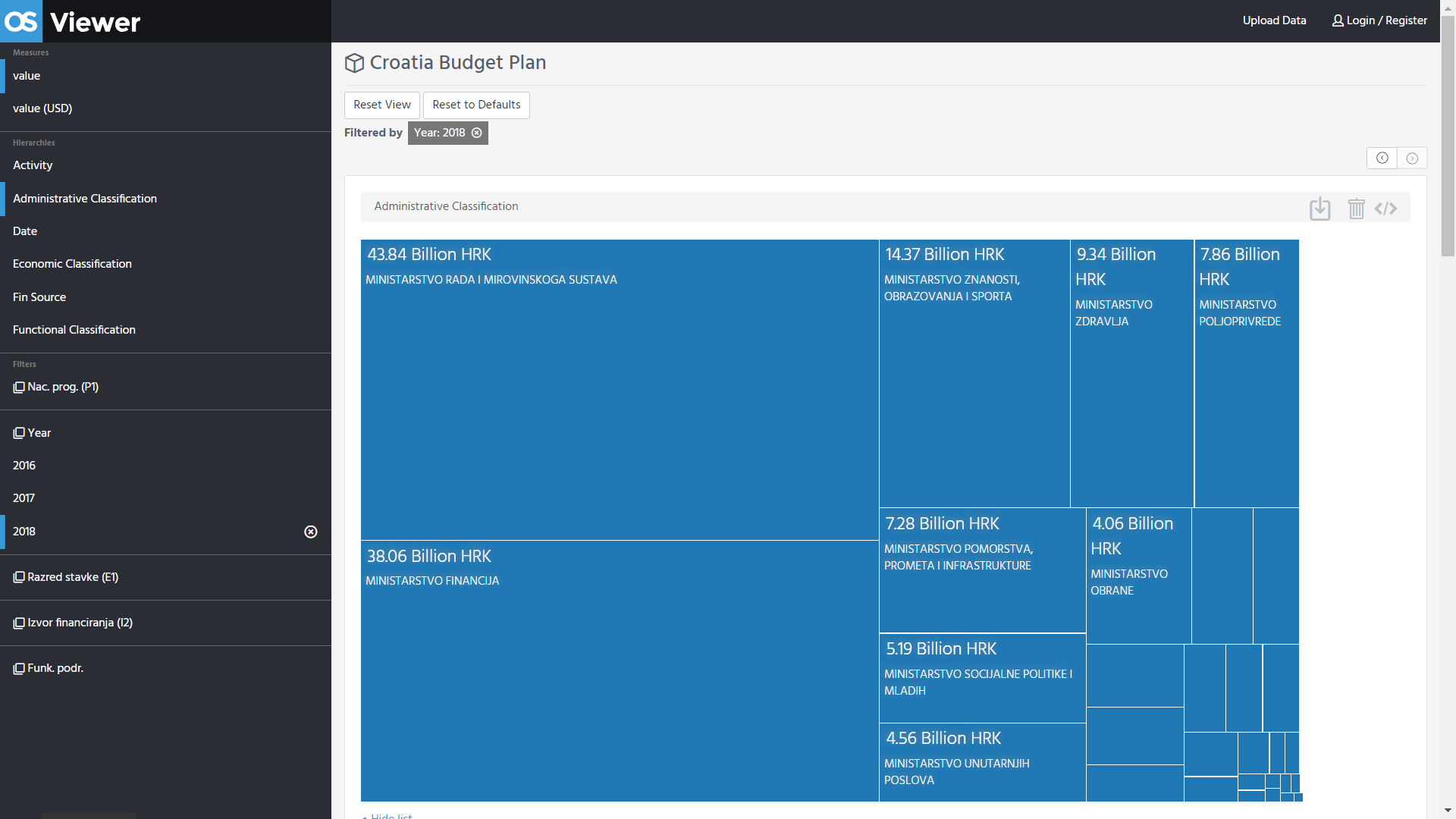 Example visualisation on OpenSpending.org of Budget data from Croatia
In 2019 we will continue to work closely with both publishers and users of government budget and spending data. Please get in touch with us via openspending-support@okfn.org if you would like to learn more or discuss a potential collaboration.
School of Data
School of Data is a global network dedicated to advancing data literacy in civil society. Since 2012, we have been working with CSOs and journalists to amplify their work with data: raising awareness of its possibilities and teaching the skills required, and training trainers how to pass this knowledge on.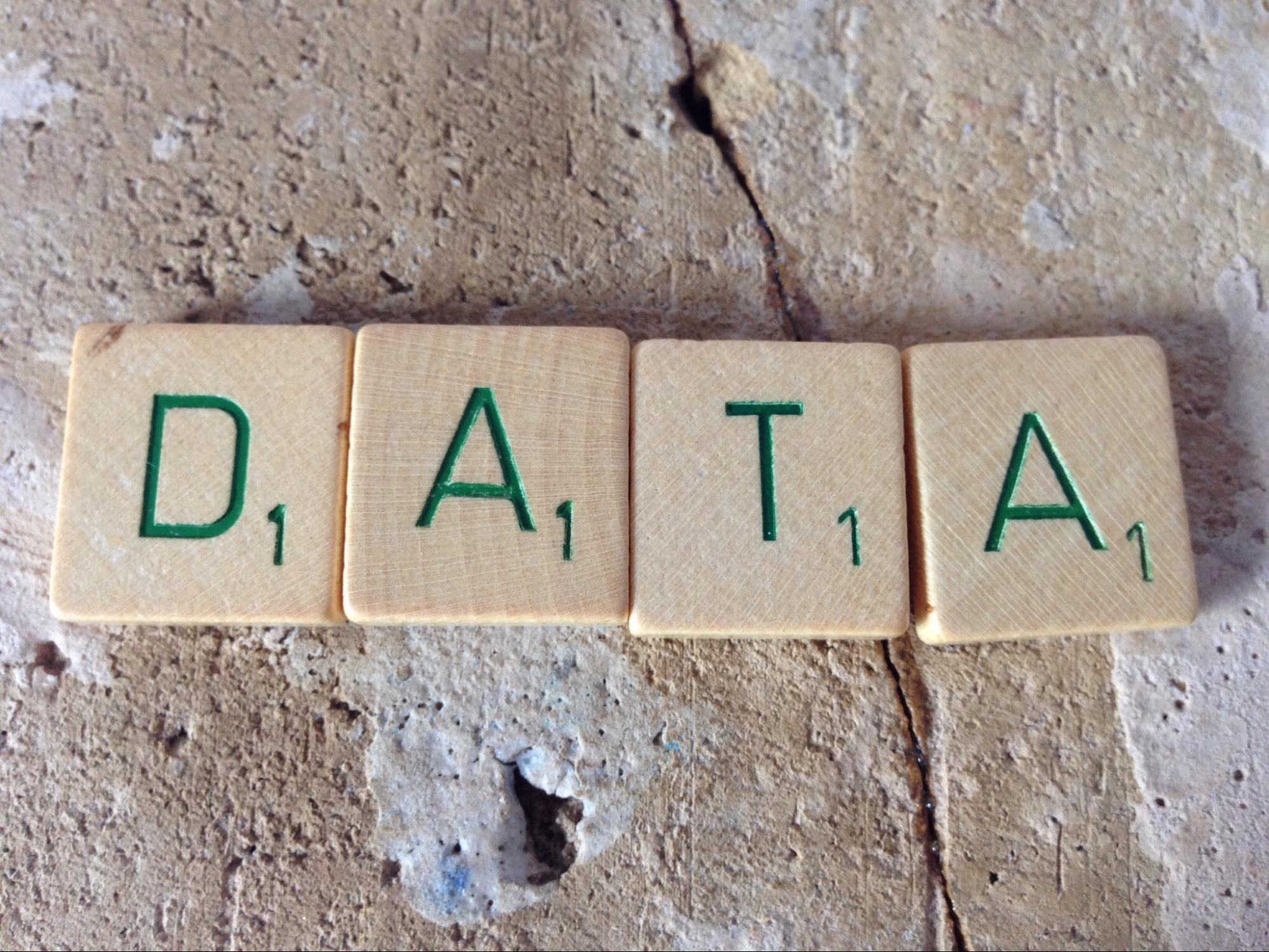 In 2018, we ran the sixth edition of our annual fellowship programme, in which we aim to recruit and train the next generation of data leaders and trainers to magnify the reach of our data literacy programme. This year, we continued the thematic approach pioneered by the 2016 class and therefore recruited individuals who already possessed experience in a specific area of data literacy training - for example: extractives data - and with established practitioners already working within this field. We recruited some fantastic applicants for our class of 2018 fellows who are based in Bolivia, Tanzania, Guatemala, Kenya, Malawi, the Philippines, Ghana and Indonesia. We partnered with organisations interested in working on the fellows' respective themes in the region local to them, who have provided the fellows with guidance, mentorship and expertise.
Instead of our annual Summer Camp, this year we held two events in Nairobi, Kenya and Manila, the Philippines. In both cases, members of our coordination team travelled out to meet up with groups of fellows for onboarding, workshopping and mapping out the shape of each fellow's programme. This also gave the fellows an opportunity to meet their peers, build contacts and share their skills.
In other highlights, we designed and produced a modular curriculum to develop foundational data skills for students and trainers of the Local Government Training Institute in Tanzania. We did a training in Washington DC for the Data Collaboratives for Local Impact Fellows, building on the work we did with the organisation in 2017. In September, in Buenos Aires, we gave a joint talk with representatives of the World Bank and DataKind UK at the International Open Data Conference. And finally our coordination team expanded as we welcomed Yan Naung Oak, a former fellow whom we are delighted to now have working on delivering the class of 2018's programme!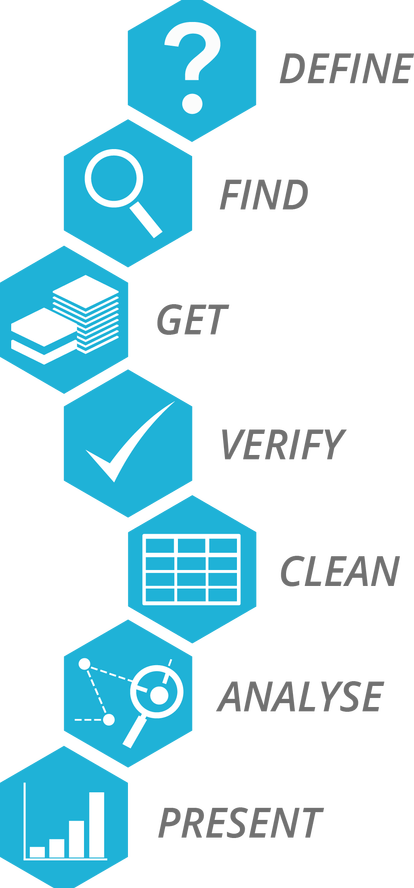 School of Data methodology: the Data Pipeline
Case studies
For over a decade we have been drawing on experience in technology, training, policy, and research; pioneering openness in new areas. In 2018 we published a number of case studies highlighting our work in different areas: